??!!

An Offer I Couldn't Refuse

posted by Ari Spool on April 9 at 12:10 PM

What was I supposed to do when my friend Trent texted me on Saturday, around noon, asking me if I wanted to buy a pint of Monarch Rum, put it in a Coke bottle, and walk down to the Convention Center to gawk at Sakura-Con?

You can't say no to that shit.

Sakura-Con hits Seattle once a year. It's the oldest and most well-attended anime convention in the Northwest. It's ten years old. You can always tell it's here if you walk downtown and you see high school kids in costumes. Crazy costumes. Costumes that they all had to make, because you can't buy costumes to look like you are from the anime Noruto at Champion.

I figured when we started walking down that we were going to go have a hearty afternoon of making fun of nerds. I love making fun of nerds. We would get drunk, sit in the courtyard of Freeway Park, and quietly whisper and giggle. But there was nothing to make fun of. All we could do was sit in awe.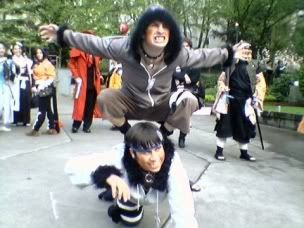 The kids looked to mostly be around 14 or 15, but there were also adults there. I wish I knew more about anime so I could tell you what these costumes are supposed to be–-any information I get in the comments will be added. Also, the repeating character is my friend Trent, who both provided these pictures and demanded to be in almost every single one.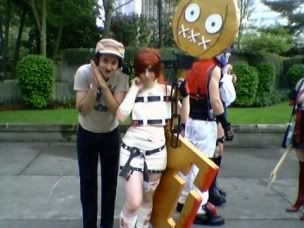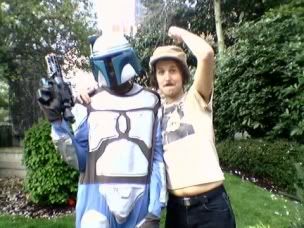 I do know this one is supposed to be Jango Fett.
Anyhow, we sat in this courtyard for about three hours, going nuts with the cell-phone camera. Everyone was very amicable about having their picture taken, and we weren't the only people whipping cameras out every five seconds. But eventually the costumes started disappearing, and we learned that everyone was inside the convention. We had to get in.
After a couple running starts at the guarded escalators and an aborted elevator mission (those old men who check badges at the Convention Center can run faster than you think they can), we finally found an abandoned staircase and dashed up. We really wanted to see what all these kids were up to (and remember the rum?).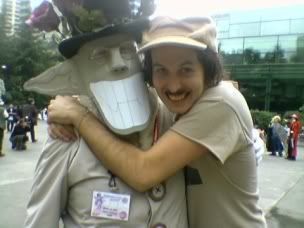 When we got upstairs, we saw tons more costumes, but still, it seemed like a lot of people had disappeared. Walking towards the back of the Convention Center, we found rooms upon rooms of people playing different kinds of games with eachother: American video games like Halo, Japanese video games, Japanese/American video games like Dance Dance Revolution, card games analogues similar to Pokemon, board games like Go, and so on. There were also lectures that I wouldn't understand. But there were still lots of people missing, and they paid a lot of money to get into this joint: why would they leave at 6?
And then, we found them, in the back, in three gigantic conference rooms all connected with eight 10-ft high screens projecting what was going on onstage all the way to the back of the room. On stage, teenagers in anime costumes were acting out fan fiction. They had made up skits featuring the characters they were dressed as, and they were (badly) performing fantasies involving situations that the writers of anime would never engage their characters in. I have lately been obsessed with the phenomenon of fan/fic and slash/fic (fan fic but with sex), so this was a dream come true.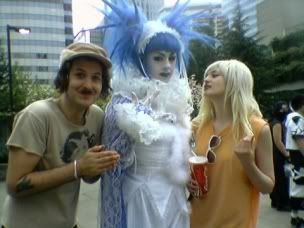 Another note about the conference, before I get ahead of myself—cross dressing was the norm. Girls were dressed as male characters, and boys were in real drag all over the place (like the blue space creature up above). Not only that, but many of these young people ran all over the place kissing each other. We couldn't tell whether it was bona-fide sexual attraction or character play-acting.
Anyhow, we watched the skits for a while, and then decided to see if there were any parties. We found one-right next to where the skits were being acted. But it wasn't a party, it was a rave. And you needed badges to get in. Dang it. Thankfully, we knew a few people who were actually attending, and we got momentary use of their badges to get us through the door. Thank god!
The rave was basically a high-school dance redux. These kids are definitely not popular in their high schools, but here, they are the coolest, and they bumped and ground to terrible house. Trent and I jumped up and down, since standing on the bouncing floor made one dizzy. We saw the world's longest conga line, which continued, without stopping, for an hour and a half. We saw Luigi from Mario Bros. dance-battle with Wah-Luigi (his evil counterpart). We saw 14 year olds make out, and kids breakdance (badly). We ended up staying at Sakura-con from 3 pm-midnight. And it was incredible.